While best known for our wedding flowers, here at Wild Roots we love making any life event even more special by growing and designing flowers that reflect the season and help capture that special moment. Sharing our blooms with your life events is an honor and a pleasure.
Wild Roots can provide flowers for a select number of special events each year including, private parties, baby and wedding showers, photo shoots, or in honor of a lost loved one. Have an idea for fresh-cut flowers at your next event? We welcome inquiries from caterers, designers, brides, event planners, or anyone looking for locally grown, eco-friendly flower options.
Flower Parties
Want a fun activity for you and your pals? Look no further than a flower bar! Create your own arrangements, or flower crowns using our seasonal blooms. A unique and fun way to spend an afternoon! Parties include:
Hands-on tutorial of floral design basics
Fun with your friends
Your very own design to take home!
This is a perfect option for birthdays, women's groups, bridal parties, and garden clubs. Parties available for 5-10 people. Email or call us for scheduling and pricing!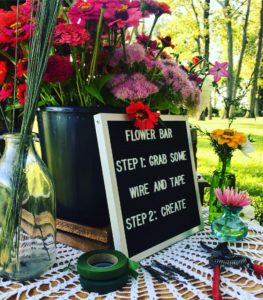 Bridal Showers, Baby Showers, Birthdays & Other Parties
Some of the most magical arrangements come about when we get to create for parties, and we always appreciate a good theme! We have a collection of different vintage, and non-traditional vessels that when filled with our garden blooms, will make your celebration all that much sweeter. Let us know how we can help you!